Agra Will Soon be a Model Tourist Destination
Submitted by Piyush Diwan on Fri, 07/13/2007 - 21:40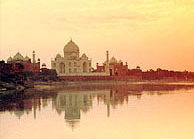 New Delhi: Today the centre stated that it is enthusiastic about developing the Agra city as a model tourist point as Taj Mahal was nominated one of the 'Seven Wonders' of the World.
Urban Development Minister S. Jaipal Reddy said, "We are interested in developing the Agra city. But a lot will depend on the initiative of the Uttar Pradesh government."
He was responding to a question on the efforts of the government to build up Agra at the back of Taj Mahal being called as one of the seven wonders. A private Swiss foundation had initiated the competition in January, letting voters to decide from 21 sites short-listed out of 77.
Reddy said Agra was already in the list of the 63 cities to be originated under the Jawaharlal Nehru Urban Renewal Mission, under which Centre grants 35 per cent of the finances for building up a city and the remaining coming from the state governments.
While the repository would be looked by the Union Ministry of Culture, the Urban Development Mininistry would modernize the city in coordination with the state government.