Ahmedabad school giving a new hope to challenged lives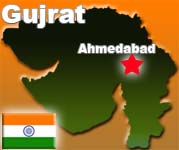 Ahmedabad, Aug. 25 : An Ahmedabad school is setting a unique example before the society by educating many mentally challenged students having below-average intelligent quotient (IQ) along with students having normal IQ level.
School authorities at the Sri Ram Vidyalaya say that the objective of the experiment is to instill confidence among the mentally challenged students by offering them an opportunity to learn along with students with normal mental abilities.
A 48-year-old Shashiben Bhatt at Bopal area here is running this school, where mentally challenged children are enrolled under a special stream. They are at the same time intermingled with the normal children who help them to boost their inner confidence.
At the school, just like any other children, both the mentally challenged and normal children play and interact.
The slow learners at the school do take their time to become friendly with others but in due course of time, they open up.
"Earlier, I used to feel that to learn with them it''ll be a problem for me where my percentage may be low. But after I interacted with them, I began to help them. My parents also saw the improvement in my percentage. And I believe they (challenged kids) will be bright kids and will make the country proud and become somebody some day," said Ravi, a normal kid.
There has also been a drastic improvement in the performance of the challenged children, as they interact and learn with the normal children.
Scorecards of exams show an improving trend among these students' performance. Their percentage has improved a lot more as compared to the previous schools.
"The previous school taught things in a very bad way. None used to sit or eat with me. No one studied along with me. However, here I''m feeling nice. Every one gets along. We study and eat together," said Sanira, an autistic child.
Recalling the earlier days, principal Shashi Bhatt mentions that when she first enrolled 4 challenged children in the year 1999, parents were upset with the thought that these children may tamper the behaviour of other children in the school. Soon there was a mass withdrawal of around 40 children and the strength came down to 100!
"When parents of challenged children in 1999 approached us, it was totally a new thing. I wanted to help these children and I included them in the normal stream. I started with four students only. We tried it as an experiment, and for that experiment I had to give a big prize because normal parents didn''t accept it. Those days the school was very small. Heavy withdrawal started taking place. In 1999 we had strength of 100 normal students. When I took those four students, around 40 normal students withdrew as we are taking such autistic and challenged children," said Shashiben Bhatt, Principal of the Sri Ram Vidyalaya, Ahmedabad.
However, the situation over the years has improved a lot.
"We are at a firm stage and with a pride we can say we have around 70 challenged students and 700 of normal students and they''re interacting very well. And the society also accepts it," Shashiben, the school principal.
With the growing number of students, both normal and challenged children, enrolling and some even waiting to get enrolled in the school, Sri Ram Vidyalaya has shown remarkable improvement.
According to a mother of a mentally challenged, she was initially scared of sending her child to any school. But she is a happy parent today, as she has seen her kid''s improvement.
"Earlier, I did not keep him in any special school because of his sleeping timings and he was small. There was a school where they keep normal kids but there was no one who''d watch over him. I took him out and after coming here my kid is kept along with other children where they are specially taught how to wear clothes, and other special kind of teachings that''s why I kept my child here," said a proud mother of a mentally challenged child.
By running this school 48-year-old Shashi Bhatt has proved that when taught together, the the challenged children can be as good as the normal children. This distinct experiment in studies also conveys a message to the parents of mentally challenged students not to allow their wards to develop inferiority complex. (ANI)