Another live bomb in Bangalore defused
Submitted by Sahil Nagpal on Sat, 07/26/2008 - 17:24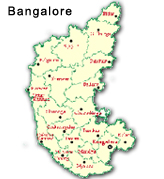 New Delhi, July 26: A day after series of eight low intensity bomb blasts hit Bangalore city, killing two people and wounding at least 15, another live bomb was found near Forum Mall in city's Koramangla area.
The bomb has now been defused.
Police cordoned off the area and blocked the entire stretch leading to the mall. Traffic has been diverted from Hosur Road and Koramangla.
Bangalore Police Commissioner Shankar Bidri also reached the area and urged the locals to remain calm.
The object found today is similar to the one used in Friday's blasts, said police.
The National Bomb Detection squad has rushed to the spot to conduct more checks.
On Friday after the blasts, Karnataka Chief Minister B. S. Yeddyurappa asked a special team to lead the probe.
One lakh rupees has been granted to the families of the dead and 25-50 thousand rupees to the injured. Police and other officials have been directed to monitor the situation round the clock. Special team has been constituted to nab the culprits.
Karnataka Home Minister V. S Acharya said gelatine sticks and a concoction of ammonium nitrate in fuel oil was used to cause some of the explosions. Nuts, bolts and nails were also packed in the bombs.
Acharya said that urea and arsenic with some yellowish colour material here used with some nuts and bolts, which acted as a missile. The explosives were dumped about a foot inside the ground. "It looks it was done in a hurry," he added.
Union Minister of State for Home Affairs Sriprakash Jaiswal forewarned that intelligence inputs had indicated that Bangalore and Hyderabad were soft targets.
"IB (Intelligence Bureau) has declared earlier that hi-tech city, either Bangalore or Hyderabad could be centre of terror attack as there are some forces jealous of the progress and they could strike these locations," he said.
High alert has been issued across the country following the incident.
City Police Commissioner Shankar Bidari said that yesterday the blasts took place at the Madivala bus stop, Hossur road, Adugudi, Koramangla, Mysore Road and Nayadahalli and other two places (ANI)