Around 100 Tamil rebels dead in fighting, Sri Lankan army says
Submitted by Mohit Joshi on Sun, 03/08/2009 - 20:49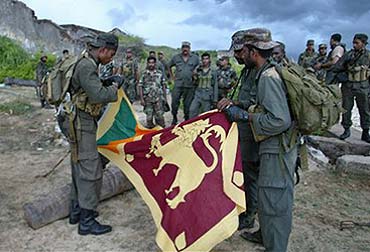 Colombo  - Tamil rebels suffered heavy setbacks trying to breach army lines in north-eastern Sri Lanka, losing over 100 of their men in two days of fighting, army officials claimed on Sunday.
Rebels attacked Sri Lankan army outposts around Mullaitituv in a bid to stop the government forces reaching the last rebel-dominated areas, but were forced to withdraw, the army said.
The military released pictures of dead rebel fighters, some wearing suicide bomber jackets.
The fighting took place close to where civilians have sought refuge, with the Sri Lankan military claiming that the rebels are now restricted to an area of less than 45 square kilometers.
The defence ministry on Sunday claimed that the Tamil fighters were using a four kilometer long "safe zone" reserved for civilians to fire mortars and artillery.
As the decades-long civil war appears to be entering its end-game, around 2,500 civilians have been injured, according to the International Committee of the Red Cross.
The Sri Lankan military claims that rebels are not allowing civilians to leave areas under Tamil control to avoid giving access to the security forces.
The government in Colombo estimates that some 70,000 civilians still remain in the areas held by the rebels, but the UN agencies say the figure is around 150,000.
Concern has been raised by international agencies about the plight of the civilians who face food and medicine shortages. However on Saturday the World Food Programme sent 500 tons of food by sea to help affected people.
Government forces say they are in the last phase of crushing the rebels of the Liberation Tigers of Tamil Eelam (LTTE). dpa