Asif Ali Zardari does not desire Prime Minister office
Submitted by Sahil Nagpal on Mon, 02/18/2008 - 15:58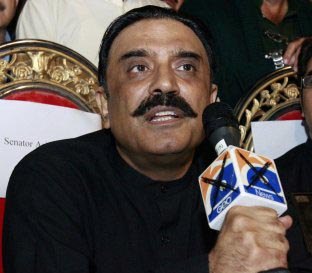 Washington, Feb 18: Pakistan People's Party co-chairperson Asif Ali Zardari said on Sunday that he does not desire the Prime Minister's office, and that his main motto is the empowerment of parliament.
In an interview to Al-Jazeera, he said, "I want to democratise Pakistan. I want to give power to the parliament to build the institutions of democracy."
When asked about his interest in the office of Prime Minister, he said that Pakistan's intelligence agencies would make the situation divisive by attacking him so he considered it more important to focus on building his party rather than becoming Prime Minister.
Talking about the assassination of Benazir Bhutto, he said, "I have to heal the wounds, get the party to calm down. I have a lot of work cut out for myself. I don't think political office is important," the Daily Times quoted Zardari, as saying.
He said he is 100 per cent confident of the Pakistan People's Party (PPP) clear majority win in February 18 election "if they allow fairness only for one day," but added that he was "not optimistic" it would be so. "Candidates are being harassed. Party workers are being killed. There is a lot of tension in the air. They are just not being fair," he added.
When asked about the probability of the PPP coalition with the Pakistan Muslim League-Quaid (PML-Q) after the election, Zardari said, "If this election is fair, PML-Q does not stand a chance. They will be too unimportant for us to consider as coalition partners."
But he also added that the PPP would "work with other parties though for a national reconciliation government where we can all sit together to solve the problems of Pakistan".
He said that one or two parties couldn't deal with the challenges facing Pakistan. Zardari also said that there were some people in the government party with whom the PPP could talk "to some extent" but that he did not see "the PPP worker as willing to work with Musharraf at the moment". (ANI)