Bajaj Auto hopes for better days from September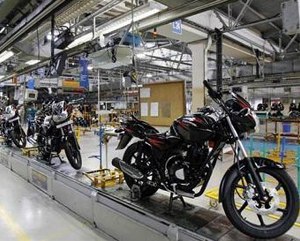 Kolkata : Bajaj Auto is bullish on its two new 150cc bikes and is aiming to regain lost ground in the second half of the FY15.
"From September onwards, we hope to come to a zero deficit situation compared to last year's monthly numbers," Bajaj Auto President (Motorcycle) Eric Vas said here.
"We are in deficit by about one lakh units in sales till now (April-August 14) this year. We can add about 35,000 units a month even if the mid-segment (above Rs 50,000) of the industry grows from 17 to 20 percent of the total motorcycle market," he said.
Bajaj expects market will experience evolution for new products above entry level (100cc) and its strategies would evolve around them helping the company gain in market share, he said.
Bajaj with a market share of 19.32 percent of the total motorcycle market will position the newly launched Discover 150cc twin motorcycles as a premium 'commuter' segment product and not as sports bike.
"Currently the market does not have a product in 150cc bikes positioned as commuter motorcycle. So, we aim to get all of this segment," Vas said.
Speaking about the new products, Vas said there can be some announcement in the Pulsar range during the year, without revealing more details.
(PTI)