Beijing Olympics set to improve West''s view of China: Survey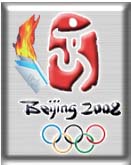 London, Aug. 9  A survey from a landmark conference on China held in London has opined that the Beijing Olympics could very well improve or have a positive impact on the way the West sees China in the near future.
Sixty-six percent of those who participated in the survey said there would be an improvement in Western perceptions after the Beijing Olympics, while 62 percent think China will become a democracy.
Seventy-one percent agreed that China''s rapid rise would not been seen as a threat to world peace, while an overwhelming 86 percent justified China being awarded the Olympic Games
Seventy-five percent said they were concerned about the Western media's negative reporting of China''s rise.
Over half disagreed that the Beijing Olympics should be used to pressurize China over its human rights record.
According to Xinhua, the survey also found that 42 percent of people think China has already become a superpower, and 66 percent say it is possible for 1.3 billion Chinese to have the standard of living currently experienced in the Western world.
A total of 67 percent believe it is not the responsibility of the West to ensure China develops sustainably.
The online survey, which examined Western perceptions of China in the run up to the Beijing Olympics, involved 124 persons by the Institute of Ideas, in association with China Now, Britain''s largest ever festival of Chinese culture, and international legal practice Norton Rose LLP. (ANI)