Blake, Fish score US one-two with Estoril victories By Bill Scott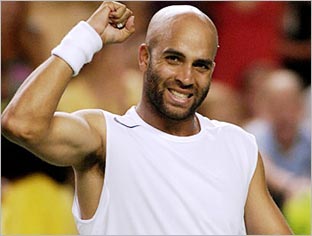 Estoril, Portugal - Florida golfing mates James Blake and Mardy Fish both had to work to salvage comeback victories Wednesday to advance on the clay of the Estoril Open.
Blake, whose career-long lack of success on the surface has left him with little to show each spring, deflated local hopes with his first-round win over Federico Gil, defeating the Portuguese player 5-7, 6-4, 6-2.
Fellow Florida resident Fish, his television gameshow presenter wife watching, reached the quarter-finals 2-6, 6-1, 6-4 over Spain's Ivan Navarro.
An excited Blake called his victory in just under two hours "the turning point of my season."
"I don't think I've played that well since San Jose (February)," said the 16th-ranked 29-year-old. "I really felt like my old self out there, it's the first time in a long time.
"Even if I don't win another match here I'll still feel good about my clay game. But I'm not ready to stop, I would really like to win this tournament."
Blake said that his break in the second set began turning the tide against Gil, who had the crowd totally on his side in sunny, hot conditions. "In the third set I was hitting winners without even trying, the ball was going exactly where it should.
"It was a great feeling, I was playing my tennis and dictating, not playing defence."
Fish won his third match without a loss against Navarro after beating the Spaniard on grass and hard court, the last time in Delray Beach near his Florida home in 2008.
Italy's Fabio Fognini accounted for 2004 French Open winner Gaston Gaudio as the fading Argentine lost 6-3, 6-4.
Gaudio won a round in Barcelona last month and announced his desire for a free entry into Estoril, but failed to take advantage in his opening match.
On the women's side of the draw, top seed Iveta Benesova was bundled out by Slovak Jarmila Groth 7-5, 6-4.
Russian holder Maria Kirilenko remained in contention with her 6-3, 6-0 win over Argentine Maria Salerni to face Ekaterina Makarova in the last eight after the fellow Russian defeated Melinda Czink 5-7, 7-5, 7-5.(dpa)