Blue eyes, blonde hair and low salary make the ideal woman
Submitted by Sahil Nagpal on Thu, 03/13/2008 - 19:25
London, March 13 :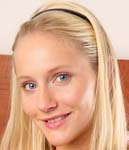 Ever wondered what really makes the perfect woman? Well, according to a new poll, a man's ideal woman is blonde, beautiful, brilliant in bed, and one who loves sport.
More than 66,000 men voted in the poll for ukdating. com, which resulted in the creation of the perfect woman, who can be dubbed as a cross between the Bionic Woman and Mother Teresa.
The most important attribute for those polled was blue eyes, followed by blonde hair.
The third most attractive characteristic in a woman was her occasional appearance wearing spectacles.
The poll also showed that for men, the perfect mate would weigh nine-and-a-half stone, stand at around 5ft 8in and be a curvy size 12.
Most men voted for women earning between 10,000-25,000 pounds a year, working in either nursing or PR.
The poll also revealed that men preferred women who live on their own, have a wacky personality, and are 'good in bed.'
The ideal woman should also have her own car, the favoured makes being a Ford Ka or a Mazda MX5 and enjoy regular trips to nightclubs, pubs and restaurants.
It is also important that she loves pets, is a non-smoker, and only drinks alcohol occasionally, the poll showed.
"While the old adage 'Gentlemen prefer Blondes' still holds true today, it's interesting to note that in this world of size zeros and calorie counting, men are more interested in height than weight, and prefer a medium build girl to a skinny girl," The Sun quoted David Brown, managing director of www. ukdating. com, as saying.
"This research just goes to show that men are as selective with their choice of date as women are, and know exactly what they want," he added. (ANI)
Technology Sector