BMC denies any extension in Campa Cola demolition date
Submitted by Malini Ranade on Sat, 04/27/2013 - 22:48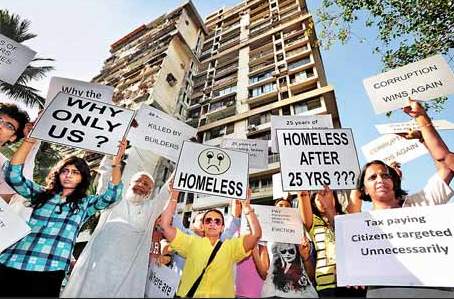 Nearly 400 residents of Campa Cola compound in Mumbai's Worli area are on the verge of losing the roof over their head as the Brihanmumbai Municipal Corporation (BMC) has declared that it would not extend the deadline for demolishing the buildings.
BMC on Friday served the Campa Cola compound residents notice asking them to vacate the flats within 48 hours. The Civic body also also declared that it would start demolishing the buildings on Monday.
Additional Municipal Commissioner Mohan Adtani said, "There is no way we are going to extend the deadline for demolishing the structures. Usually, we give 24 hours for eviction before demolition. We have given them adequate time since 2005."
But, the residents are arguing that their apartments should not be demolished before their review petition is heard by the Supreme Court. They are also claiming that the developers had kept them in dark by not obtaining the requisite permissions from the civic body.
But, BMC says that the builders were permitted to build just five floors and all the flats above that are unlawful. In its February 27 ruling, the apex court of the country sided with the civic body and allowed the civic body to demolish floors above five storeys of each of the Campa Cola compound's seven buildings.
The Campa Cola compound has a number of posh apartments, including Esha Ekta Apartments, Orchid Apartments, Shubh Apartments and Patel Apartments. BMC has plans to demolish a total of 140 flats.