Both sides see victory in Moldava's new elections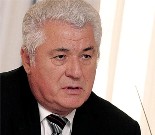 Chisinau - Moldova's ruling Communists and the pro-Western opposition each expressed confidence in victory Wednesday in the country's second parliamentary elections this year.
Meanwhile, outgoing President Vladimir Voronin said the new vote ought to help rescue the former Soviet state from its serious political crisis.
The European Union-oriented opposition is seeking a parliamentary majority that would allow it to put an end to the Voronin era and to choose a non-Communist as the new president.
Observers have described the vote as one that pits youth against age. While older people in Moldova support the predominantly pro- Russian Communists, youth are largely allied with the pro-Western opposition.
Voronin, leader of Moldova's Communist Party, has been president since 2001. He is forbidden from seeking a third four-year term.
The 68-year-old head of state was forced in June to call an early vote because the parliament elected on April 5, despite having a Communist majority, could not agree on a successor to replace him. In Moldova it is parliament which elects the head of state.
Charges of electoral fraud in the April vote led to street riots and a recount, but the outcome remained unchanged.
"The democratic forces in the new parliament will form a majority capable of ruling," said Vlad Filat, head of the Liberal Democratic Party of Moldova. His party charged that Voronin had waged an unfair election campaign with the state media the president controls.
Moldova's approximately 2.5 million voters have eight parties among which to choose.
Polling stations are set to close at 9 pm (1800 GMT). The first election projections were expected in the early hours of Thursday.(dpa)