Bulgaria seizes 80 kilos of heroin, arrests Serb driver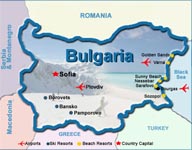 Sofia  - Bulgarian police said Wednesday they had seized 80 kilos of heroin hidden in a lorry arriving from Turkey, and arrested the Serbian driver.
Customs officials at the Kapitan Andreevo crossing found the narcotics hidden under the sleeping bunk of the lorry Tuesday evening, according to a police statement.
While the catch - estimated to have a street value of some 4 million dollars - was sizable, it is not unusual in Bulgaria, which is the gateway of drug smugglers travelling from Asia to Europe.
The country, a member of the European Union since 2007, seized about 1 ton of heroin from smugglers last year, a quarter of it on the Kapitan Andreevo crossing in the south. (dpa)