Bulgarian nurses demand compensation from Libya
Submitted by Mohit Joshi on Wed, 04/22/2009 - 00:58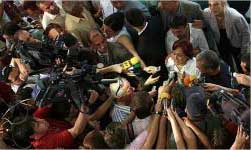 Sofia - Five Bulgarian nurses who had spent eight years in detention and sentenced to death in Libya before being deported in
2007 have demanded compensation from the government in Tripoli over their ordeal.
The women and the Palestinian man who was also among the six medical workers accused of intentionally infecting more than 400 children with the HIV virus have called on the United Nations to intervene to "bring the Libyan state to justice."
The nurses were demanding moral as well as financial compensation, one of the nurses, Kristiyana Valcheva, told Bulgarian state radio.
The nurses, who spent eight years in custody in Libya, claimed that confessions were extracted from them under torture.
AIDS experts have since established that poor hygiene was the reason the human immunodeficiency virus was transmitted throughout the children's clinic in which the nurses worked.
According to Valcheva, the six medical personnel also wanted to "clear their names," as they have been considered guilty in most Arab countries due to the influence of Libya. (dpa)
Technology Sector