Bush claims his decisions kept US safe
Submitted by Mohit Joshi on Fri, 01/16/2009 - 14:09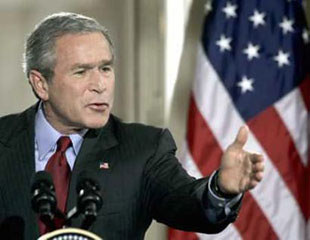 Washington, Jan. 16: Outgoing US President George W. Bush on Thursday claimed in his farewell address that the decisions that he had taken during his eight years in office, had kept the country safe from another terrorist attack.
Stating that he was leaving office with a sense of gratitude, Bush urged the incoming Obama administration not to let down its guard.
Bush called the approaching inauguration of President-elect Barack Obama a "moment of hope and pride" for the country, but cautioned Obama to be vigilant, warning that the gravest threat to the country continues to be another terrorist attack.
"We have faced danger and trial, and there''s more ahead. But with the courage of our people and confidence in our ideals, this great nation will never tire, never falter and never fail," Fox News quoted Bush as saying.
He also hailed the progress made in Afghanistan and Iraq during his two terms, and described his administration''s military campaigns as a fight against murderous fanatics that the United States and its allies are winning.
"I vowed to do everything in my power to keep us safe. ... And with strong allies at our side, we have taken the fight to the terrorists and those who support them," he said.
"There is legitimate debate about many of these decisions. But there can be little debate about the results. America has gone more than seven years without another terrorist attack on our soil," he added.
"I have followed my conscience and done what I thought was right. You may not agree with some tough decisions I have made. But I hope you can agree that I was willing to make the tough decisions," Bush said.
Bush has made several appearances over the course of the week, defending his overall record as "solid" and declining to engage in what he called "self-pity."
He said the "only practical way" to protect Americans is to advance the causes of liberty and freedom so other nations do not fall into the hands of those who support terror.
"Our enemies are patient and determined to strike again. America did nothing to seek or deserve this conflict. But we have been given solemn responsibilities, and we must meet them. We must resist complacency. We must keep our resolve. And we must never let down our guard," he concluded. (ANI)