Bush defends "tough decisions" in farewell speech
Submitted by Sahil Nagpal on Fri, 01/16/2009 - 13:56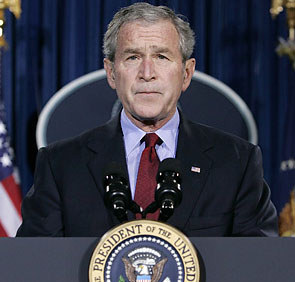 Washington - US President George W Bush in his farewell address Thursday said there can be "little debate" that the controversial decisions he's made during his presidency have kept the United States safe.
Bush took up many of the themes that defined his eight years in office as he made his final speech to the nation as president. He warned that terrorism remains the "gravest threat to our people," more than seven years after the September 11, 2001, attacks on New York and Washington.
Bush said the United States was the only country that could "lead the cause of freedom" and democracy around the world. The US must never turn to isolationism or protectionism to achieve its goals, he said.
Bush gave his final address from the White House's East Room before nearly 250 guests including cabinet members, his wife, Laura, and Vice President Dick Cheney, as he tries to salvage his legacy despite leaving office with some of the lowest job approval ratings in modern US history.
While acknowledging some "setbacks" and things he might have done differently, Bush said he had stayed true to his principles and made the "tough decisions" necessary to protect the country.
"There is legitimate debate about many of these decisions. But there can be little debate about the results," Bush said. "America has gone more than seven years without another terrorist attack on our soil."
Bush has steadfastly maintained that history will be the ultimate judge of his presidency, which ends when Barack Obama is sworn in at noon Tuesday.
Bush will give way to Obama amid the worst recession in decades and ongoing wars in Iraq and Afghanistan. The president-elect also inherits the unfinished job of closing the notorious prison camp for suspected terrorists in Guantanamo Bay, Cuba.
"I have followed my conscience and done what I thought was right," Bush said. "You may not agree with some tough decisions I have made. But I hope you can agree that I was willing to make the tough decisions."
Bush offered best wishes to Obama, who will become the country's first African-American president. Bush described his successor as a man "whose story reflects the enduring promise of our land."
Next week's inauguration is "a moment of hope and pride for our whole nation," Bush said. "And I join all Americans in offering best wishes to president-elect Obama, his wife Michelle and their two beautiful girls."
Bush said the US should "never let down our guard" and must continue to speak with the kind of "moral clarity" that was a key trait of his own presidency.
"I have often spoken to you about good and evil," Bush told viewers. "This has made some uncomfortable. But good and evil are present in this world, and between the two there can be no compromise."
Bush also said he took "decisive measures" to stabilize the US economy and was convinced the country would rebound from its current recession.
The US has come under heavy criticism for allowing Wall Street investors to bring the financial system to the brink of collapse, which some analysts and government leaders argue has shaken the very fundamentals of the US-style free market.
Bush has said that he, too, was forced to give up many of his free-market principles in a desperate bid to shore up the country's banking industry last year. The Bush administration bought up stock in private banks and took over the country's largest insurer, American International Group.
But Bush said he believed the US would "show the world once again the resilience of America's free-enterprise system." (dpa)