Buy Reliance Communications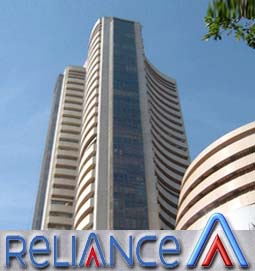 Karvy Stock Broking Limited has maintained 'Buy' rating on Reliance Communications Limited stock to achieve a target of Rs 245 within 1-2 days.
According to Karvy, day traders can buy the stock above Rs 232 with a stop loss of Rs 224.
Shares of the company, on Thursday (April 16), closed at Rs 217.45 on the Bombay Stock Exchange (BSE). Current EPS & P/E ratio stood at 8.36 and 26.80 respectively. The share price has seen a 52-week high of Rs 608.85 and a low of Rs 131.35 on BSE.
Reliance Communications, on April 15, declared that it has added up 3 million wireless customers during the last month (March 2009).
At the end of February 2009, RCom had 69.6 million subscribers.
RCom offers a high-capacity, integrated (both wireless and wireline) and convergent (voice, data and video) digital network.
The company also announced that it will launch a tender offer to buyback foreign currency convertible bonds (FCCBs) at a discount, subject to RBI authorization.
RCom said that $950 million of FCCB bonds were outstanding from $1 billion issue set to mature in 2012. It had already bought back $40 million of the bonds.
RCom said it would decide the extent of the repurchase programme and the tender offer would be funded through its internal accruals and foreign exchange proceeds.
On April 14, the company has repurchased 50, Zero Coupon Foreign Currency Convertible Bonds (FCCBs) each of $100,000 aggregating Rs 252.6 million approx at a discount.