Career diplomat to be next Thai foreign minister
Bangkok -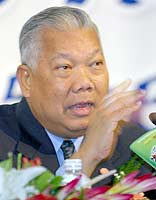 Thai Prime Minister Samak Sundaravej has chosen a respected career diplomat to become the country's next foreign minister at a time of heightening political crisis for his government, official sources said Saturday.
Samak has named Saroj Chavamaviraj, 66, the new foreign minister and on Friday submitted the appointment to Thai King Bhumibol Adulyadej for approval, a foreign ministry source confirmed.
Saroj retired in 2002 as ambassador to France. Prior to his Paris posting he was permanent secretary of the foreign ministry for four years.
His appointment follows the shock resignation of former foreign minister Tej Bunnag on Wednesday amid Thailand's heightening political crisis.
On Tuesday Samak declared a state of emergency in Bangkok after a violent street clash between pro-government and anti-government protestors left one person dead and 43 injured.
Thousands of followers of the People's Alliance for Democracy (PAD) have occupied Government House - government headquarters - since August 26, demanding Samak's resignation.
Samak has refused to step down. The resignation of Tej, another career diplomat, was deemed a major blow to Samak's credibility.
Saroj faces the tough job of hosting the upcoming annual summit of the Association of South-East Asian Nations (ASEAN) in December and of healing a rift with Thailand's neighbour Cambodia over joint claims on an ancient Hindu temple, Preah Vihear, on their joint border.
Joint claims to land adjacent to the temple triggered a military standoff in July. (dpa)