China becomes world's largest gold consumer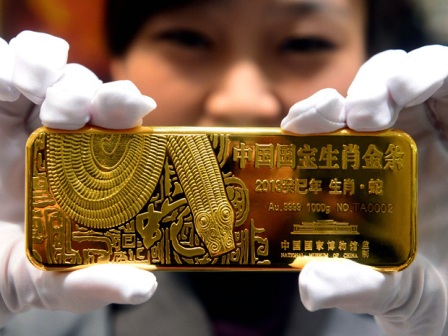 Washington, Nov. 17 : China has bet India and become world's top gold consumer.
China has purchased 798 tonnes of the precious metal so far this year, compared to 715 tonnes that India bought, the latest World Gold Council report has revealed.
According to CNN, the group recently lowered its 2013 forecast for India's gold consumption by 10 percent to 900 tonnes.
It estimated that China will buy 1,000 tonnes by the end of the year.
Albert Cheng, the World Gold Council's Far East Managing Director, said that rising disposable incomes and a growing middle class in China is driving demand.
Cheng added that consumers continue to invest in higher carat and heavier pieces of gold jewellery.
Demand in India, the world's top gold user until recently, has been waning after the government restricted gold imports and raised taxes, the report said.
It fell 32 percent in the most recent quarter, compared with a year earlier. Demand in China rose by 18 percent, it added. (ANI)