Couple jailed in Malawi for gay wedding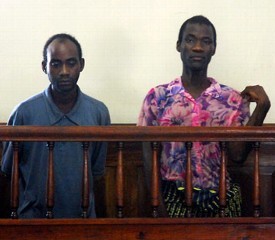 In Malawi, a gay couple wedded and this landed them in trouble as they were booked under sodomy conviction. They may face sentence to the maximum of 14 years of imprisonment with hard labor.
The two guy Tiwonge Chimbalaga and steven Monjeza were arrested on 28th December accused of violating the order of nature after their symbolic wedding. This was the first such case in the country.
In most of the African countries and Malawi, Homosexuality is an illegal act. The magistrate Nyakwawa Usiwa Usiwa has ruled that the two men will be sentenced to 14 years of imprisonment with hard labor.
The judge has also said later that more scaring sentence was needed to both so that the public will fear to do such acts again. He has said such activities should be avoided in the country.
The two men looked subdued when they sentenced and quickly rushed out of the packed court room.
They were escorted under the heavy police guard.