Court to pronounce quantum of sentence to Pandher, Koli
Submitted by Mohit Joshi on Fri, 02/13/2009 - 13:40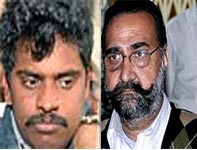 Ghaziabad, Feb 13 : A special court in Uttar Pradesh will pronounce the quantum of sentence to the main accused Mohinder Singh Pandher and his domestic help Surinder Koli in the Nithari killings case.
Judge Rema Jain will pronounce the quantum of sentence.
A special Central Bureau of Investigation (CBI) court on Thursday convicted Pandher and Koli who are accused of killing and disposing off the bodies of 19 children and a young woman between 2005 and 2006.
Pandher was found guilty under Indian Penal Code (IPC) sections 302, 376, 201 and 120B, whereas Koli was convicted under sections 302, 376, 364 and 511.
Pandher was charged with causing disappearance of evidence of offence and giving false information (section 201) and hatching criminal conspiracy (section 120B).
Kohli was charged with the kidnapping or abducting in order to murder (Section 364) and for attempting to commit offenses, which are punishable with imprisonment for life
(section 511).
The Nithari killings that came to light two years ago left people across the country flabbergasted.
The skeletal remains of the children were first discovered in a sewer behind Pandher''s plush D-5 bungalow in Noida''s Sector 31.
The human skulls were stuffed in 57 gunny bags along with 700 bone pieces.
The investigation of the case was handed over to the CBI on January 11, 2007. The CBI has filed chargesheets in 16 cases. Chargesheets in the remaining three cases are still awaited. (ANI)