Czechs grab doubles win over Serbia in Davis Cup final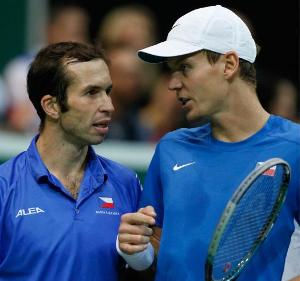 Belgrade, Nov 17 - The Czech duo of Tomas Berdych and Radek Stepanek dominated Saturday's doubles in the Davis Cup final, scoring a surprisingly comfortable 6-2, 6-4, 7-6 (7-4) victory over the Serbian team of Nenad Zimonjic and Ilija Bozoljac.
With the win at the Kombank Arena in Belgrade, the defending champion Czechs took a 2-1 overall lead in the tie and can now successfully defend their title with one singles victory Sunday.
The 35-year-old Stepanek was the star Saturday, controlling the match with his return of serve and net game and finishing it off with an ace on match point.
The veteran, who is known for his all-around game and ability to rise to the occasion in big matches, clinched the Davis Cup final last year with a victory over Spain's Nicolas Almagro in the fifth and deciding match.
"Today I felt pretty good on the court," Stepanek was quoted as saying on the official Davis Cup site.
"I felt like the first two and a half sets I'm on a soccer field. The court felt very big. It's a pleasure to play with Tomas by my side. We fit together with our games and we controlled the match from the first point until the last."
The Serbians opted to leave world No. 2 Novak Djokovic out of the doubles and go with Zimonjic and Bozoljac, who stunned the powerhouse US team of Mike and Bob Bryan in this year's Davis Cup quarterfinals.
On Saturday, however, Zimonjic, a three-time Grand Slam champion in men's doubles, got little help from his partner.
The Serbians were particularly weak on return of serve - the strength of Djokovic's game - and failed to convert the lone service-break opportunity they created in the match, which the Czechs clinched in two hours and 12 minutes.
Djokovic will take on Berdych in Sunday's first singles match.
Unless the world No. 7 can pull off the upset, this year's Davis Cup will come down to a contest between Stepanek, one of the most experienced players in men's tennis, and 23-year-old Dusan Lajovic, who has won just five matches in his career at the ATP World Tour level.
Serbia was forced to play Lajovic, the world No. 117, because its regular No. 2 singles player, Janko Tipsarevic, was ruled out of the final because of a heel injury.
Stepanek expressed confidence ahead of Sunday's reverse singles.
"I have full belief in Tomas that he can perform great tomorrow. He has a shot. Novak will be under pressure (knowing) that he has to make the point," the world No. 44 said.
"If it comes to 2-all, I'm ready. I always have been and I always will be. There's nothing more exciting than to play at 2-all. If it happens I'll be ready but we have to wait for that." (IANS)