Defence invokes poet Iqbal in Tahawwur Rana's favour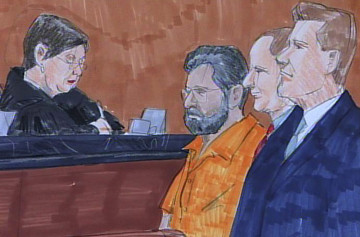 Chicago, Dec 3 - Pakistan's poet laureate Allama Iqbal was invoked in a Chicago court to establish the "non-violent and decent" character of Tahawwur Hussain Rana, who is under detention pending indictment for aiding a conspiracy to "murder and maim" outside the US.
Appearing for this third bond hearing in an orange prison suit Wednesday, Rana looked visibly at ease as the prosecution and defence presented diametrically opposite portraits of the Canadian citizen of Pakistani origin. The three character witnesses brought by Rana's attorney Patrick Blegen maintained he was a peace-loving, non-violent man who was interested in the message of Iqbal.
Mohammed Arshad Mirza, a Chicago ophthalmologist and an acquaintance, spoke of their common interest in the teachings of Iqbal as members of the Iqbal Society. "Iqbal's message (to Muslims) was to be organised and educated and put their demands through legal means and never in an extra judicial non-violent manner," Mirza told Magistrate Judge Nan Nolan in US District Court.
He was there to buttress Belgen's argument that the image of Rana as presented by the US government was "inconsistent" with his client's belief in Iqbal's teachings. At one point as those present in the court wondered who Iqbal was Belgen said it was like saying that Gandhi's followers would be violent.
The other two witnesses were Raja Mohammad Yaqub, a gasoline retailer, and Athar Akhtar, Rana's brother-in-law. Both men maintained that the accused was a non-violent man not given to any of what he is being accused of. Yaqub said during a meeting of some 20 Pakistani American businessmen in Chicago last Sunday there was a general consensus that Rana was a peaceful man and needed to be supported by the community. Rana's brother-in-law Akhtar said: "I believe he is a non-violent person."
In contrast to Belgen's argument, Assistant US Attorney Dan Collins said the character witnesses did not know that there was a "whole other side" to the accused.
"He spent a significant amount of time with (David Coleman) Headley -- a lot more time than the three witnesses who were put here today," Collins said. "The word 'target' is that man's word, it came out of his mouth," Collins said, pointing to Rana. His assertion was based on a recorded phone call.
Collins repeatedly asked the witnesses if they would change their opinion of Rana being a non-violent and peaceful man if they were to find out that he spent time with someone who had connections and trained with the Lashkar-e-Taiba, a "designated terrorist organisation". None of the three offered a direct answer but said they had to know all the facts even as they emphasised that the accused was a non-violent man.
The US Attorney's office has maintained that Rana was aware of Headley's alleged intentions to carry out reprisal against the Danish newspaper cartoonist Kurt Westergaard, whose caricature of the prophet Mohammed wearing a bomb as a turban, in the Jyllands-Posten in 2005 triggered worldwide rage among Muslims.
The two are also under cloud for their alleged connection with the Mumbai terror attacks of November 2008 but that aspect has not been the focus of the current hearing. There was a mention of whether the reference to the National Defence College was the one in India or in Pakistan. The prosecution has maintained it refers to the one in India while the defence has denied it.
The defence also dismissed the prosecution's contention over whether Rana agreed with some of the evidently radical Islamic materials that Headley had supplied him. "It is clear that Rana does not agree with things that Headley gave him. I have a copy of the Communist Manifesto at home. That does not mean I am a communist," Belgen said.
It was disclosed during the hearing that Rana gave a five-hour statement to the Federal Bureau of Investigation (FBI) after his arrest. Saying that she would go watch the entire video statement Judge Nolan said she would "like to do a good job" because she is "the only judge Mr. Rana has got". Belgen maintained that in that statement his client had denied any involvement in any plot.
Since his arrest Oct 3, Rana's family has not been able to meet him, a delay attributed to paperwork. The decision whether to release him on a million dollar bond was postponed to Dec 15. (IANS)