Dena Bank first quarter net profit gone up by 21%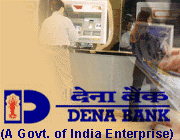 Public sector lender Dena Bank has declared its financial results for the first quarter of the fiscal year 2010-11. According to the report, the bank has registered a significant 21% net profit rise in the quarter under review.
Dena Bank has reported that the net profit of the bank stood at Rs 138.79 crore for the quarter that ended in 30th June, 2010. The company has registered a net profit of Rs 115.02 crore in the same quarter in the previous fiscal year. This has been informed by Dena Bank in a filing at the Bombay Stock Exchange.
The bank has also reported that there has been a significant growth in the total income of the bank. The total income of the company was stood at Rs 1,221.78 crore during the June quarter of 2010-11. In the last year, for the similar quarter, it was reported to be Rs 1,123.82 crore.
The revenue of the bank is found out to be Rs 627.74 crore against Rs 533.97 crore for the last fiscal.