EU: Moldova accepts dialogue, riot investigation
Submitted by Mohit Joshi on Mon, 04/27/2009 - 23:49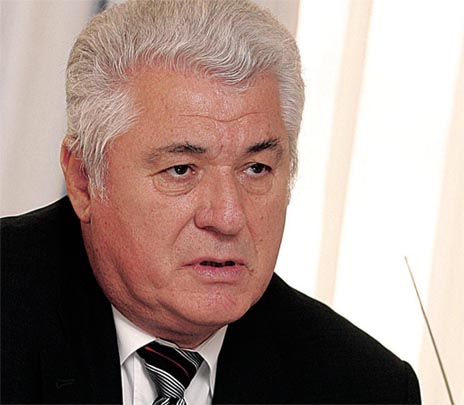 Luxembourg - Moldova's President Vladimir Voronin has accepted European Union demands to begin a dialogue with opposition parties and open an investigation into post-election riots which shook his country three weeks ago, EU officials said Monday.
The EU's top diplomat, Javier Solana, visited Moldova on Friday. During the visit, Voronin undertook to begin a reconciliation dialogue with opposition politicians before the first session of parliament next week, Solana's spokeswoman Cristina Gallach said.
He also agreed to invite opposition figures and international human-rights experts to join a committee investigating the violence that broke out between students and police following Moldova's parliamentary election on April 5.
"We expect to see the implementation of the two engagements, and hope to see the way forward," Gallach said.
The EU has highlighted Moldova as one of six countries it would like to join its so-called "Eastern Partnership," a cooperation group which the bloc plans to launch at a summit in Prague on May 7.
But accusations of vote-rigging in the country's elections, the riots in Chisinau and the police crackdown which ended them have all put the project under a cloud.
They also led to a serious row with EU member Romania, after Voronin accused Romania of fomenting the unrest. Moldova retaliated by demanding that all Romanian citizens obtain visas to enter the country.
EU Foreign Affairs Commissioner Benita Ferrero-Waldner on Thursday called that demand "unacceptable."
The EU has invited Moldova to send a representative to the Prague summit, but diplomats say that Voronin is unlikely to attend in person.
Speculation also surrounds the question of whether Belarus' President Alexander Lukashenko will attend.
But Gallach said the summit itself was more important than the question of who goes there.
"For us, what matters is the policies," she said. (dpa)
Technology Sector