Former Indian envoy Sheel kant Sharma takes over as new SAARC chief
Submitted by Mohit Joshi on Sat, 03/01/2008 - 22:35
Kathmandu, Mar 1 :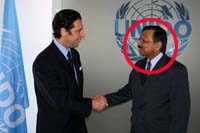 Former Indian envoy to Austria, Sheel Kant Sharma, on Saturday became the ninth secretary-general of the South Asian Association for Regional Cooperation (SAARC) for three years.
Sharma, 53, an expert on energy, succeeds Lyonpo Chenkyab Dorji, who in 2005 became the first SAARC chief from Bhutan. Dorji's term ended on Friday.
The chief of the eight-member body is chosen on a rotational basis from among the member countries. The SAARC Summit in New Delhi last year had agreed on Sharma as Dorji's successor.
Besides Nepal, where the SAARC secretariat is located, the other members of the grouping are India, Bangladesh, the Maldives, Sri Lanka, Pakistan, Bhutan and Afghanistan. (ANI)