German duo circling the globe in a four-wheel drive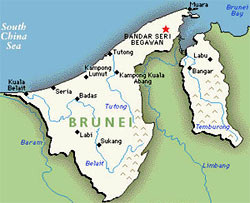 Brunei  - Attempting to challenge their limits, two German adventurers set off last August to circle the globe in their four- wheel drive vehicle.
Leaving behind their electrical engineering business and conventional German life for a more rugged path of discovery, the adventurous pair, Jost Organista and Barbara Biggemann, embarked on their journey of "unlimited possibilities" after two years of intensive research and preparations.
Both adventurers told the German Press Agency dpa that taking this decision was no easy task: "We had to undergo various types of training and had to leave all the comforts that everyone is so accustomed to back home," adding that they have even given up their pension money and insurance.
To prepare for the challenging journey, the pair had to ready themselves with the knowledge of self-defence, first aid, mechanical skills and more in case of any emergency.
Organista and Biggemann also sought special assistance from a medical institute in Essen to help them design a first aid kit containing relevant medical prescriptions that medical professionals think they may need for the arduous journey.
The couple also had their vehicle, "Sunshine," custom-manufactured to bear the long and rough rides. The four-wheel drive is equipped with three diesel tanks with a total capacity of 240 litres, a 100- litre tank to store drinking water, a pantry, solar equipment, and a satellite phone.
"We have a great network back in Germany that should we encounter any problem, the team is always there to help us," said Organista.
Their decision to take on the challenge was "one without regrets." Even after experiencing a rough ride for the past 15 months, having visited a total of five countries - Australia, New Zealand, Singapore, Malaysia and Brunei, which they are currently exploring, the couple does not intend to stop.
Their high level of enthusiasm and excitement remain prominent as they announced their next destination, Indonesia. Their list also includes Myanmar, Tibet, Nepal, India and more until they return to Germany in 2011.
"This journey has really broadened our vision," suggested Biggemann. Recalling her one-month experience with Australian aborigines, she said that she was caught by surprise by their hospitality and kind gestures. The couple was warned before going into the Australian desert that the aborigines "were dangerous people."
They were in fact, the complete opposite, remarked Organista: "We had a great time with them as they were so helpful. They even told us if we were to ever return there again, they will provide us a house to live in."
From that experience, the pair concluded that one should never rely on opinions from others, but one must experience it oneself.
While so many in the world spend hours in their bathtub, the two had to manage their water usage wisely as they have only 20 litres of water for general use such as bath, brushing their teeth and washing cutlery.
Organista and Biggemann hope that their daring move to go on this trip would serve as a message that "anything is possible."
"Everyone has a dream. If you have one, just get out there and do it without making any excuses," they advised.
To date, the duo has driven a distance of approximately 50,000 kms in their vehicle and have taken more than 100,000 photographs, capturing extraordinary moments throughout the journey. (dpa)