Germany seeks release of ship hijacked by pirates off Somalia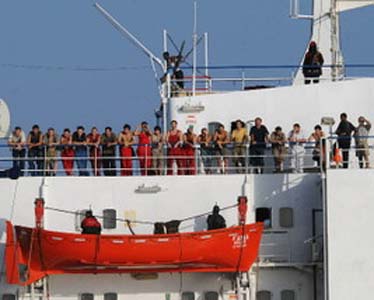 Berlin  - Germany was attempting Monday to obtain the release of a German container ship which was hijacked the previous day in the Indian Ocean, apparently by Somali pirates.
A newspaper in Hamburg identified the vessel as the Hansa Stavanger, owned by a city shipping company, Leonhardt & Blumberg.
The Hamburger Abendblatt said the vessel, built in 1997 at the Wenchong shipyard in Guangzhou, China, had had several other names and owners.
Another newspaper, the Neue Ruhr Zeitung, quoted the commander of the European Union's Atalanta naval operation in the region, Commodore Antonios Papaioannou, as saying there were five pirates on board and the 24-man crew included five Germans.
A Foreign Ministry spokeswoman in Berlin said a task force of officials was trying to obtain more information and gain the ship's release.
The Spiegel Online website in Germany quoted Andrew Mwangura, coordinator of the East African Seafarers' Assistance Programme, as saying the ship was seized about 400 nautical miles (about 750 kilometres) off the southern Somali port of Kismayo, between the Seychelles and Kenya.
Several German vessels have been captured on the coast and only freed after ransom payments.
A week ago, German Navy units in the area thwarted an attempted pirate attack on a navy oiler, the Spessart, in the Gulf of Aden and detained seven would-be pirates. (dpa)