Goering described as `Fat Boy' in Scots prosecutor''s secret letters
Submitted by Mohit Joshi on Fri, 03/20/2009 - 23:01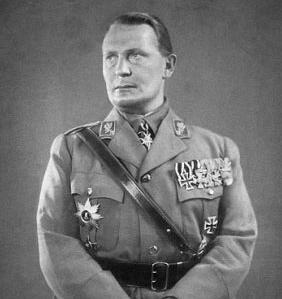 London, Mar. 20 : An extraordinary archive of letters written by Britain''s chief prosecutor at the Nuremberg Trials, describes Hitler''s second-in-command, Hermann Goering, as a "fat boy".
Those letters will go on show for the first time today.
The notes were penned by Edinburgh-born law chief David Maxwell Fyfe to his wife, Sylvia, during the Nazi commander-in-chief''s trial for war crimes in 1946.
They describe how Goering, Hitler''s closest ally and the head of the Luftwaffe, was brought to justice and pour fresh light on the evidence against him, reports The Scotsman.
They also provide a fascinating insight into the trials of co-defendants Albert Speer, architect of the Third Reich, and Karl Doenitz, president of Nazi Germany following Hitler''s death.
Goering - who murdered tens of thousands of Jews - was found guilty of all charges and sentenced to death, but took his own life the night before he was due to be hanged.
His interrogation entered legal folklore after he got the better of American chief prosecutor Robert H Jackson - but crumbled under Fyfe''s persistent questioning. (ANI)