Gold and silver reach new heights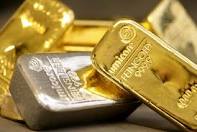 Precious metals gold and silver reached new heights on Tuesday as investors continued piling into these metals with an aim to hedge against potential inflation risks.
Spot gold jumped to $1,696.91 an ounce, the highest level the yellow metal hit since mid-March. Though, it then eased slightly to $1,695.46 per ounce.
The U. S. gold jumped 0.6 per cent to $1,698.20 per ounce. Asia's physical market witnessed some scrap selling of the yellow metal as prices reached a level of $1,700 per ounce.
Gold in India climbed to its all time high on Friday. Following the international market rally on Federal Reserve Chairman Ben Bernanke's speech, gold for October delivery on the Multi Commodity Exchange was trading 1.20 per cent higher at 31,342 rupees per 10 grams, after hitting a high of 30,405 rupees earlier in the day.
Speaking about soaring prices of gold, a Singapore-based dealer said, "People think prices will possibly keep rising and are quite cautious on selling at this point."
The U. S. silver futures contract climbed as much as 3 per cent to hit four-&-a-half month high of $32.38 an ounce. However, later it eased faintly to $32.27 an ounce.
Over the past two weeks, silver has jumped nearly 10 per cent, while gold has climbed 4 per cent, despite gloomy growth outlook for the global economy. Silver is known for more price volatility than gold. Silver is more price volatility due to the relatively small size of the market plus limited liquidity.