Government keen to pass anti-corruption bills: Kamal Nath
Submitted by Hardeep Sidhu on Mon, 02/03/2014 - 19:49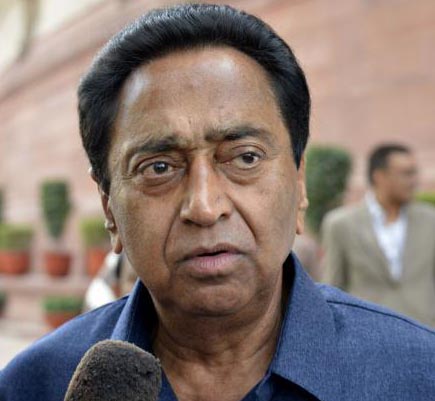 New Delhi, Feb 3 : The government Monday sought the cooperation of the opposition parties in passing anti-corruption bills as well as the women's reservation bill in parliament. But the BJP and the CPI-M said the Congress should restrain its own members from causing disruptions.
Speaking to reporters after an all-party meeting ahead of the second half of the winter session beginning Feb 5, Parliamentary Affairs Minister Kamal Nath said there was a need to rise above politics to get the anti-corruption bills and the women's reservation bill passed in this session of parliament.
Kamal Nath said that the bill for creating a separate state of Telangana out of Andhra Pradesh was "a high priority for the government".
Speaking after the meeting, Samajwadi Party and Janata Dal-United leaders said the United Progressive Alliance (UPA) government should focus on the financial business during the session.
Kamal Nath said there is a need to pass the anti-corruption bills.
"There is a need to rise above politics. The 15th Lok Sabha should make its place in history," he said.
Asked if the government will present a vote-on-account or an interim budget ahead of the general elections expected in April-May, Kamal Nath said the "vote-on-account will be for four months".
BJP leader Sushma Swaraj said her party will support the passage of the bills if the government ensures orderly functioning of the two houses.
She said the government cannot blame the opposition for disruptions as its own members have been protesting on the issue of Telangana.
"Not only has the (Congress-led) government's grip loosened over the country but also on its own chief ministers and MPs," Swaraj said.
Communist Party of India-Marxist leader Sitaram Yechury said the government had "39 bills on its agenda in 12 days of business". His party had asked the government to prioritise the bills, he added.
He asked the government how will it ensure the orderly conduct of business in the two houses in the wake of the conflicting views of its own members on Telangana.
Yechury said if the government intends to bring an interim budget, there should be proper discussion.
JD-U leader Sharad Yadav said the government should get the financial bills passed between Feb 12 and Feb 21.
"The (passage of) other bills looks difficult in the prevailing conditions. The houses may not run due to differences on the issue of Telangana," he said.
SP leader Ramgopal Yadav said that "only financial bills should be brought" by the government.
He said the government had been seeking credit for passage of bills such as those on food security and the new government that assumes office after the Lok Sabha polls should table most of the other pending bills.
Congress vice president Rahul Gandhi has been pressing for the passage of six anti-corruption bills after the passage of the Lokpal bill in the first half of the winter session.
They include the public procurement bill, the prevention of corruption act (amendment) bill, the prevention of bribery of foreign public officials and officials of public international organisations bill, the judicial standards and accountability bill, the right of citizens to time-bound delivery of goods and services and redressal of their grievances bill and the whistleblowers protection bill. (IANS)
Technology Sector