Gujarat auto industry gets a boost with arrival of Nano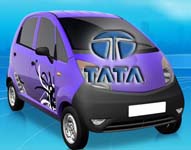 Rajkot, Oct 24 : Tata motors'' decision to make low cost Nano car in Gujarat has kindled hopes of a lucrative business among the auto-parts making small-scale industrial units in Rajkot.
Rajkot has established itself as a hub for the auto parts ancillary units and, supplies auto parts to automobile manufacturers including Tata, Mitsubishi and Mahindra and Mahindra.
Around 40-50 manufacturers and over 250 sub manufacturers are based here and produce over 300 types of auto parts.
Industry experts feel that the setting up of Nano car plant in Gujarat will give an boost to the manufacturing units in Rajkot.
"When the plant was in Singur, that time also quite a few manufacturers from Rajkot were supplying parts to Nano car, Tata Nano project, as original component. So, this is a benefit to Rajkot industries since, they are coming to Gujarat and all main plant manufacturers would wish that their ancillary should be in the nearest periphery of the main plant," said Hitesh Bagdai, resident, Rajkot Chambers Of Commerce and Industry (RCCI).
According to the manufacturers, the setting up of the Nano plant in the state will also help them in cutting down on their logistics cost as they would save around 1.6 million rupees a month on transportation alone.
Experts say the entry of Tata motors is also bound to encourage other auto giants to come to Gujarat and aid the growth of auto parts manufacturing industry in terms of business and also generate more employment opportunities.
"There are many engineering colleges in the city and people qualifying from there used to go to Maharashtra or other states for work. Now with Nano coming, more employment will be generated and they can get a chance to work here only," said Suresh Patel of Amul Industries which manufactures auto parts for Nano car. (ANI)