Hazi Rattan Dargah and Gurudwara, a symbol of communal harmony in Bathinda Fort
Submitted by Mohit Joshi on Sat, 12/27/2008 - 23:14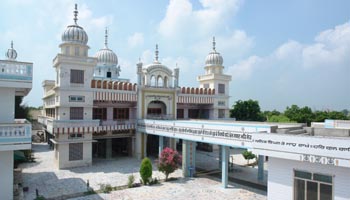 Bathinda, Dec. 27 : Punjab is also known as the land of Sufi saints and Gurus who always spread the message of communal harmony. A visit to the mausoleum devoted to Muslim Saint Haji Rattan in Bathinda Fort confirms the message.
People of different castes, creed and religion visit Saint Haji Rattan's Dargah from far off places. Also located adjacent to the mausoleum is a gurudwara devoted to the same saint.
Raj Kumar, one devotee, said: " I have been coming to this Dargah since my childhood and the Haji Rattan Gurudwara Sahib is also built at the same place, so it''s a very nice. All wishes are fulfilled here. "
It is said while on his way to Talwandi Sabo, the tenth Sikh Guru, Guru Gobind Singh camped here for the night outside the mausoleum of the saint Haji Rattan. The tomb''s keepers tried to dissuade the Guru from sleeping here saying that the place was haunted.
Since Sikhs don''t build tombs and the Guru like other Sikhs didn''t believe in ghosts. So Guru Gobind Singh spent the night at the place to show the people that such superstitions had no ground.
Later, marking this visit, a gurudwara was built near the mausoleum of the saint and today Sikhs, Muslims and Hindus pay obeisance at both the spots.
Maulvi Sajuddin, Priest at Dargarh Haji Rattan, said: "It is written in holy Quran that a man, who loves the believers of Allah, is a good person. It is written in Guru Granth Sahib also that God is there in every human being. God is everywhere. I request all the people to live in love and peace. The Dargah and Gurudwara Sahib, which have been built at the same place, send the message of `unity''."
According to a legend, Hazrat Haji Rattan was a `Sabaha'' or companion who actually saw the Rasul of the Muslim prophet.
The first reference to Haji Rattan is Islamic literature dates back to the 12th century. Several Hadith collectors travelled from as far as Andulusia and Central Asia to collect the supposed traditions pertaining to him.
Visitors have a deep faith in Hazrat Haji Rattan and they believe that all wishes come true here. People from far-flung areas visit it to express their faith and devotion.
Located within the premises of Bathinda fort, the historical edifice is in the tourism map of district administration.
The gurudwara and mausoleum have helped unite the local residents who share their problems and celebrate religious occasions. (ANI)