Hold Chambal Fertilisers With Target Of Rs 92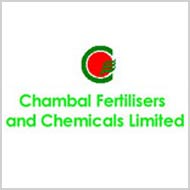 Technical Analyst Hemant Thukral has maintained 'hold' rating on Chambal Fertilisers & Chemicals Limited stock with a target of Rs 92.
The stock of the company, on April 07, closed at Rs 273.55 on the Bombay Stock Exchange (BSE).
The share price has seen a 52-week high of Rs 104.80 and a low of Rs 54 on BSE.
Current EPS & P/E ratio stood at 7.27 and 12.11 respectively.
The company's directors will meet on May 10, 2011, inter alia, to sanction the audited financial outcomes for the financial year ended March 2011 and announcement of dividend, if any, for the same period.
In addition, CFCL announced that it has signed up independent consultants to suggest options for reconstituting its shipping biz.
The company stated, "The Restructuring Committee of the board of directors at its meeting held on March 28, 2011 has appointed independent consultants to explore various options for the purpose of restructuring the shipping business of the company."
The professionals will also suggest and help the Restructuring Group in this regard.
The Kolkata-based shipping arm of the company functions under the name "India Steamship" and possess 6 Aframax tankers with a joint capacitance of 6,00,000 dead weight tonnage (DWT).