India repatriates Pakistan fishermen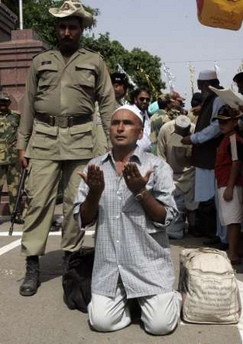 Wagah, May 17 : India on Saturday released 14 Pakistani fishermen, who were caught straying into Indian waters last year.
The officials of Border Security Forces (BSF) handed over the fishermen to Pakistani Rangers at the Wagah border.
The repatriation of the Pakistani national has taken place before the beginning of Indo-Pak talks in Islamabad next week.
A three-member team of Pakistani Fishermen's Cooperative Society (FCS), arrived on the Wagah Border to receive the released fishermen.
According to sources, the FCS team would make all arrangements for the travel of released fishermen from Wagah to Karachi.
According to information, Indian security forces arrested the fishermen on July 17, 2007 and October 11, 2007 for allegedly fishing in Indian waters.
While talking to media, Rasheed, a fisherman from Karachi, said that there is no borderline in water, so most of the fisherman from both the sides cross the boundary due to ignorance and are arrested by the security forces.
He, however, urged the governments of India and Pakistan to release the fisherman of either country on the same day and also return their boats back.
Sher Ahmad, a Pakistan fisherman, said that he is happy that he is going back home after spending eight months in Jam Nagar jail.
Mohammad Emeen, another Pakistan fisherman, has appealed that the Pakistan Government should also reciprocate by releasing Indian fishermen, who have been languishing in various Pakistani jails for the past couple of years. (ANI)