India's development will be determined by Gujarat: Munda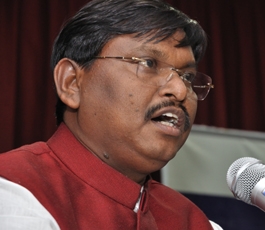 India has failed to grow over the past years, and thus the people of Gujarat should make sure that the entire country develops like Gujarat, Jharkhand Chief Minister Arjun Munda.
Addressing an assembly of BJP activists in Gandevi, Navsari district, Munda said that are observing that the country's growth is declining but they wanted India to return to the path of growth.
Speaking on the topic, Munda added, "I am sure the people of Gujarat will ensure that the country gets back on the growth path by adopting the model followed by Gujarat.
He further said that the development of the country would be possible only if people would give mandate to the BJP.
Urging the people of Gujarat to give mandate to the BJP, he said that upcoming elections not decide the fate just of Gujarat but also of the whole country.
The Jharkhand Chief Minister also said that he gladly accepted Gujarat Chief Minister Narendra Modi's invitation to visit the state because he also wanted his state Jharkhand to follow the example of Gujarat for development.
Separately, Madhya Pradesh Chief Minister Shivraj Singh Chauhan addressed a party rally in Amroli, Olpad Assembly constituency of Surat district. Praising Modi, Chauhan claimed that Gujarat was best placed among states ruled by the BJP. He pointed out that Gujarat enjoyed a growth rate of more than 10 per cent - considerably higher than the national average of 5.5 per cent.