Indian Stock Market Recovers: Currency Still Down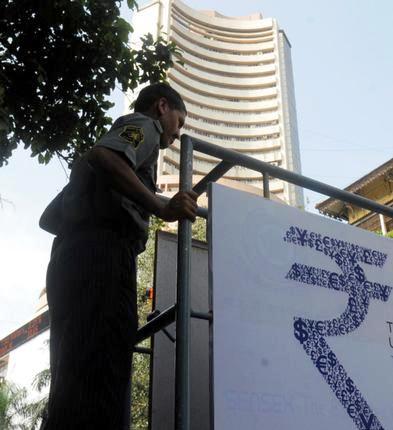 Indian Stock Market recovered smartly after massive decline in the morning trade on Wednesday. Indian currency also witnessed worst ever single day fall in decades as the currency plunged to its all-time low level of 68.75 against US dollar. There were reports that RBI asked PSU banks to sell US dollars in the market and that helped by offering some recovery in the Indian currency.
Stock markets turned positive in afternoon session with majority of stocks trading positive. At 3.00 pm IST, BSE Sensex was up by 112 points at 18080 and NSE Nifty was up by 26 points at 5313. Market experts expect markets to correct further before finding any support.
The government has been blamed for pushing forward Food security bill at a time of economic crisis and this led to fall in Indian currency. Exporters will have better margins as their earnings will increase but the long term impact of rising USD will be bad for the Indian economy. The import bill due to high oil imports will be much higher for Indian government to control. Additionally, with increase in price of diesel and petrol in domestic markets, inflation will go out of control. RBI will not be able to reduce the interest rates, which industry has been demanding for quite some time now.
Stock markets recovered as some specific stocks had corrected to levels which are seen as good for fundamental long term buying. Some well performing public sector banks are available at their 2-3 year lowest prices. Capital goods and Metal stocks are also trading much lower and some of the companies offer good valuations for long term investors.
However, the overall sentiment of the market is bearish. Till the time the currency settles, more investment will not be advisable. The foreign investors were net sellers thing month. The total positive investment made by foreign investors in year 2013 stands at USD 12 billion.