India's First Woman President Takes Charge, Outlines Vision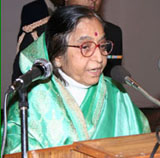 New Delhi: Pratibha Patil made history by becoming the country's first woman President. Ms. Patil took the oath of office in the historical Central Hall of Parliament in the company of her highly popular forerunner A P J Abdul Kalam, Prime Minister Manmohan Singh and Congress President Sonia Gandhi.
Heads of all political parties, including the BJP, Governors and Chief Ministers and the diplomatic corp also accompanied the ceremonial occasion.
In a brief address after being inaugurated as the President by the Chief Justice of India, she stated, "'It will be my sincere endeavour to live up to the high expectations of all those who have chosen to elect me, and to serve the best interests of the people of India."
"I am fully aware of the great responsibility that has been placed on my humble shoulders," she added.
Ms. Patil advantaged socially inclusive economic growth and harmony in the battle against disruptive inclinations like communalism.
She also said, "It should be our combined endeavour to sustain this growth and ensure that it is socially inclusive. We must ensure that every section of our society -- particularly the weak and the disadvantaged -- are equal partners in and beneficiaries of the development process."