IndiGo reports 5-fold rise in yearly net profit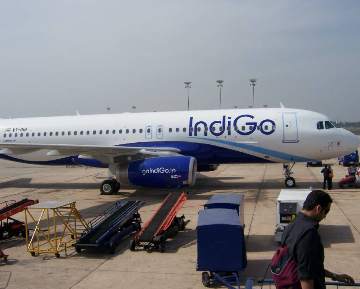 IndiGo, the largest budget airline in India, has reported an impressive five-fold rise in its yearly net profit, thanks to a combination of rise in capacity and decline in non-fuel expenses.
The budget airline announced that it generated a net profit of Rs 787 crore during the financial year ended March 31, as against a net profit of Rs 128 crore in the previous twelve months.
IndiGo managed to generate a strong profit despite drastic increase in fuel bills and a steep decline in the value of rupee against foreign currencies. Since IndiGo's break even in FY2008-09, it was the fifth consecutive year of net profits for the carrier.
Revenues jumped 65.4 per cent year-on-year, from Rs 5,718 crore to Rs 9,458 crore. The airline's market share increased from 22.2 per cent in 2012 to 28.1 per cent in 2013.
The airline's earnings before interest, tax, depreciation, amortisation & rent cost margins were recorded at 18.6 per cent.
Aditya Ghosh, chief executive of IndiGo, said, "We gave our financial results to the Directorate General of Civil Aviation on Tuesday morning. The increase in revenues is mainly due to capacity expansion and improving yields."
Expenses jumped 49.7 per cent year-on-year to Rs 8,465 crore during year under review.
In contrast, rival budget carriers SpiceJet and Jet Airways suffered losses of Rs 191 crore and Rs 480 crore, respectively, in the FY2012-13.