Jewellery exports may revive in FY10
Submitted by Shilpa Mahapatre on Fri, 04/24/2009 - 08:29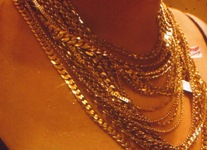 Country's jewellery export witnessed modest growth of 0.45% to $21.11 billion in FY09 despite low demand from traditional markets of US and European countries. The sector performed well in first half of the fiscal. However, exports dipped by 18.9% during the second half under the impact of global slowdown and higher gold prices.
The Gems & Jewellery Export Promotion Council (GJEPC), Chairman, Vasant Mehta, said, "We are looking at a period of bottoming out of the recession. Hopefully by last quarter of the fiscal, the situation would improve, though we have not yet set an export target for the year."
Mr. Mehta hopes that there could be an increase in exports in the second half of 2009-10 following signs of recovery of global economy. On job losses across the sector, he said, "The job losses are not just because of downsizing. It is largely due to closing of hundreds of small units because of falling orders."
Export of gold, accounting one-third of the country's total gems & jewellery exports, grew by 23.64% that led to overall growth of gems & jewellery in 2008-09. About 31% of jewellery was exported to UAE followed by Hong Kong, US, China, Russia and the CIS countries.
Technology Sector