Jordan, Iraq coordinate steps to combat swine flu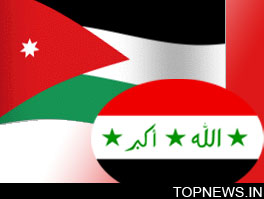 Amman - Jordan and Iraq on Wednesday decided to step up coordination to tackle a possible outbreak of swine flu, confirmed cases of which have surfaced in several countries around the world.
Jordanian Health Minister Nayef Hayel met with his Iraqi counterpart Saleh al-Hasnawi to discuss what both countries should do in the face of an outbreak.
"The two ministers underlined the importance of exchanging information at the highest level over latest developments relating to the disease," an official statement said.
Hayel updated his Iraqi counterpart on the latest precautions taken by Jordan and said his country's medical resources would be made available to Iraq.
Al-Hasnawi supported Jordan's call for an emergency meeting of the World Health Organization's Mediterranean bureau to discuss the outbreak.
Jordanian authorities on Tuesday ordered owners of pig farms to slaughter their livestock or face punishment, farm owners claimed. The health ministry's earlier measures included banning the import of all meat from countries that had confirmed swine flu cases. (dpa)