Judicial Commission Reserves Order To Summon Modi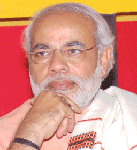 Ahmedabad: The Nanavati Judicial Commission, investigating the Godhra train carnage and the communal riots of Gujarat, has reserved order till September 17 due to demand of Jansangharsha March for summoning Chief Minister Narendra Modi and others for interrogation.
On Monday, the Commission directed government counselor Arvind Pandya, to file objections, if there are any, by September 12 to its intention of questioning a few people on the authenticity of the two compact discs (CDs) to build the relevance of summoning Mr. Modi and others.
The direction was issued after Manch advocate Mukul Sinha requested the Commission to inquire on its own the genuineness of CDs following statement of Mr. Pandya last month.
The CDs contain details of over a million calls made to and from mobile phones held by some Ministers, Sangh Parivar leaders and senior police officers. These CDs were given to the Commission in 2005 by the then police Superintendent, Rahul Sharma, associated to CID (Crime) during his interrogation. Mr. Pandya, in his August 5 letter, informed the Commission that no such CD was available in State CID (Crime) records.
Dr. Sinha, who represents the riot victims, demanded the summoning of Mr. Modi, Gordhan Jhadafiya, and few others.