KEM hospital facilitates liver transplant at a reasonable cost
Submitted by Piyush Diwan on Sat, 06/05/2010 - 04:07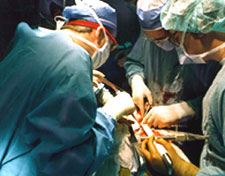 Liver transplant at private hospitals cost around Rs 20 lakhs which is beaten by the civic-run KEM Hospital in Parel , which offers liver transplant surgery for just Rs 5 lakh. Finally, patients who become the victims of liver failure have good news in terms of reduction in cost.
Although KEM will charge state-of-art Rs 8 crore for liver transplant surgery, transplant can be done only by the end of July, told by the doctors of KEM hospital on Wednesday. Dr Chetan Kantharia, a liver transplant specialist at KEM Hospital said that hospital can begin its surgeries only after getting the sanction from Zonal Transplant Coordination Committee , for which an application have already been submitted by the hospital with Zonal Transplant Coordination Committee.
There is an out-and-out committed liver transplant programme organized by the hospital for both related donors and cadaveric (using organ from deceased donors) transplants. Another hospital, JJ Hospital a government run hospital at Byculla is also at its initial stages of planning to include liver transplant program and they have started the process.
The KEM hospital includes various facilities like two modular operation theatres and six-bedded Intensive Care Unit with separate cubicles for each patient. Each operation theatre is well managed by creating a media bridge, to give enough space to the equipments and avoiding disorganized mess on the floor and Class I laminar airflow to ensure a germ-free and safe environment for surgeries.
Kantharia said that such particular management is essential for such types of surgeries because it requires transplant of an organ into the body and if body will be contaminated with other germs it might result in non acceptance of the organ or can lead to morbidity.
KEM hospital has start receiving patients for liver transplant surgeries making the score up to 26 patients. Four of these patients have donor as their relatives, whose samples have been taken for test and remaining have been waiting for the cadaver donations.
Dr Kantharia said that in spite of all the facilities present in the hospital for the surgery, doctors cannot perform the surgeries till they receive sanction from the ZTCC. After receiving sanction, at least 10 poor patients will be treated at no expense.