Key ally of India's ruling Congress party agrees to join government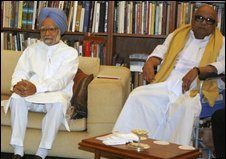 New Delhi  - A key ally of India's ruling Congress party, the regional Dravida Munnetra Kazagham (DMK) party, has decided to join the new federal government in return for three key ministerial jobs - ending the deadlock over cabinet positions, media reports said Sunday.
The southern Tamil Nadu state-based DMK with its 18 lawmakers is among the main constituents of the Congress-party led United Progressive Alliance that scored a resounding victory in the recently concluded national polls.
"The problem (over ministerial berths) is resolved. We are joining the (UPA government)," a senior DMK leader told the IANS news agency in southern Chennai city. "They (leaders) are working out the finer details," he added.
The Congress-DMK discussions over ministerial posts had collapsed a day before Manmohan Singh was sworn in as prime minister for his second consecutive term on Friday.
Amid reports that the party was bargaining for several ministerial positions, the DMK had announced that it was opting to remain out of the government but would support Singh in parliament.
But according to the agreement worked out over the weekend, DMK chief M Karunanidhi's son MK Azhagiri, daughter Kanimozhi and confidant A Raja will be among DMK leaders getting seven ministerial positions, four of which are at the junior-minister level.
The ministers will be sworn in with the first expansion of the Singh cabinet that is likely on Tuesday.
Singh as well as 19 other ministers took the oath of office on Friday. Pranab Mukherjee and SM Krishna were named as the country's finance and foreign minister.
Palaniappan Chidambaram will continue as the home minister and AK Antony as defence minister for the second term, the government announced. (dpa)