Kingfisher Airlines' woes showing impact on UB Group's other companies
Submitted by Neeta Aurora on Thu, 02/14/2013 - 21:57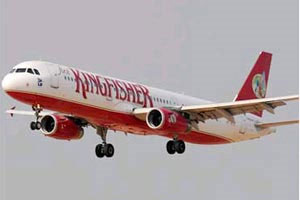 Grounded airline Kingfisher's financial woes have started showing their impact on parent firm UB Group's other companies also.
United Breweries' stock slipped 9.26 per cent to close at Rs 642.5 a share yesterday; while United Spirits' shares ended yesterday's trading at Rs 1,862.45 apiece, down 4.84 per cent from the previous day's close. Stock in UB Holdings was down 9.94 per cent to Rs 70.25 a share.
Stock in struggling Kingfisher Airlines slipped around 5 per cent to Rs 10.58 a share. In early trade yesterday, the stock dropped over 5 per cent to Rs 10.58 a share. The stock had jumped around 10 per cent over the previous two days, after suffering a loss of around 26 per cent over the past month.
The stocks slipped after the consortium of lenders led by State Bank of India (SBI) declared that they would recover outstanding loans from the grounded airline as the airline's failed to present any concrete revival plan.
SBI has the maximum exposure of Rs 1,600 crore in Kingfisher Airlines, while PNB, IDBI Bank and BOI have exposures of Rs 800 crore, Rs 800 crore and Rs 650 crore, respectively.
The exposure by UB Holdings to Kingfisher Airlines is Rs 2,109.31 crore, Rs 6,631.35 crore and Rs 2,135.60 crore in investment in equity, guarantees to banks and guarantees to aircraft lessors and others, respectively.
Experts say that Kingfisher Airline's net has completely wiped out, and it was ready to be referred to the Board for Industrial & Financial Reconstruction, which will either restructure the carrier's capital base or merge it with a healthy company in case every attempt to revive it fails.