Lalu offers 11 new trains, a rail division to Bihar in Interim Rail Budget 2009-10
Submitted by Mohit Joshi on Fri, 02/13/2009 - 18:33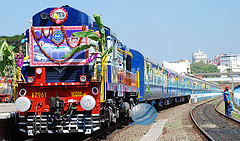 New Delhi, Feb. 13 : As expected, Union Railway Minister Lalu Prasad Yadav has offered his home state of Bihar a bulky package in the Interim Rail Budget 2009-10.
Announcing the railway budget for the sixth consecutive time, Yadav announced 11 new trains for Bihar.
Three new Garib Rath Express, Ajmer-Bhagalpur(Bi-weekly), Jammu-Tawi-Darbhanga (weekly), and Sitamarhi-Delhi (weekly) will be introduced during the budget period.
Besides that Barauni-Delhi Jansadharan Express (Bi-weekly), Saharsa-Delhi Express via Patna ( weekly), Ranchi-Patna Jansahatabdi Express (daily), New Delhi
-Guwahati Rajdhani Express via Bhagalpur (weekly), Howrah -Delhi link service via Bhagalpur (weekly), Jamalpur-Gaya Passenger, Jhajaha-Patna MEMU would also be introduced.
In addition to it, a new railway division in Bhagalpur would also be set-up.
The budget also has recommendation for a pre-feasibility study to run Delhi-Patna Bullet train. Commenting on the on-going railway projects in the state, Yadav said construction of Rail Wheel Factory in Chapra is going-on in full swing, and work on diesel and electric locomotive factories at Marhoura and Madhepura would begin soon.
The ailing Bharat Wagon Limited at Mokama and Muzaffarpur has been transferred to Ministry of Railways, he said. (ANI)