Mahesh Bhatt presents 'Raaz - The Mystery Continues'
Submitted by Ashok Rao on Tue, 11/18/2008 - 16:27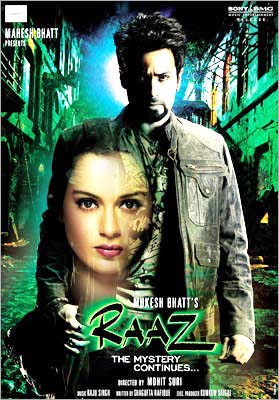 The shooting for the forthcoming thriller, 'Raaz - The Mystery Continues', by Vishesh Films and Sony BMG, is complete. Slated for worldwide release on 23 January, 2009, the film touted as Raaz 2, is directed by Mohit Suri, and it stars Emraan Hashmi, Kangana Ranaut and Adhyayan Suman.
Going by the precedents set in the past, producer Mahesh Bhatt is going to leave no stone unturned to bring the film to the audience. In fact, whether it is publicity campaign, song promos, poster design or sheer quotable quotes centered on the film's theme, Vishesh Films sure knows how to make heads turn when a film from their stable is introduced to the audience.
Little surprise then to have the Bhatt saying: "It is definitely thrilling to be ready to present Vishesh Films' next film to the world. 'Raaz – The Mystery Continues' has been much talked about and long awaited by everyone, so here it is! Get ready to be spooked!"
Actually, the promotion strategy is already on – what with the first ever look of the movie sporting a logo in a venomous neon green color to distinguish it as an out-and-out horror film! Even the warning 'This Winter...Fear Comes Homes' is outright scary. Moreover, another promotion look has a backless Kangana Ranaut with 'Raaz - The Mystery Continues' written with blood on her back. Yet another has Kangana's fingers turning into claws waiting to attack anything that comes her way! Emraan Hashmi's introductory look has him standing still in ruins, with a halo behind his head, hinting the arrival of the troubled souls!
Looks as if the Bhatts are on a rampage - unleashing one poster after another, to build an intrigue that goes by the name of 'Raaz - The Mystery Continues'!
Technology Sector