Maruti set for record sales in 2014 at over 11.48 lakh units
Submitted by Karan Jakhad on Wed, 12/24/2014 - 21:52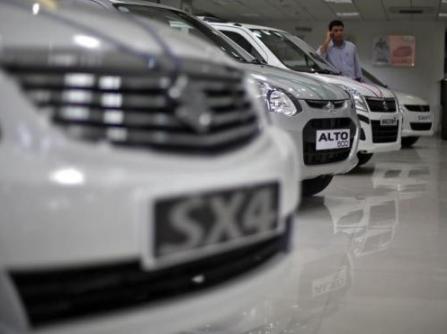 New Delhi: Country' largest car maker Maruti Suzuki India is set for a record sales in 2014 at over 11.48 lakh units driven by growth across segments but it expressed concerns that a hike in excise duty could hurt the overall auto industry.
The company is awaiting a clarity on the amendment to the Company's Act before going ahead with the minority shareholders' voting on its plans to let parent Suzuki Motor Corp own and invest at the upcoming Gujarat plant.
"We are going to see our highest ever sales in a calendar year in 2014. We are going to touch around 11.48 lakh units during the year," Maruti Suzuki India (MSI) Chairman R C Bhargava told reporters here.
The previous best selling year was 2010 when Maruti managed to sell around 10.6 lakh units, he added.
The company, which sells various popular models including Swift and Dzire, has also enhanced its market share to 44.8 percent in the April-November period, up 4.1 percent from the same period of previous year, he added.
During the period, the company's total sales have grown by 13.1 percent to 8,35,912 as against 7,39,247 units in the year-ago period.
Elaborating on the company's impressive sales growth despite the industry still struggling, MSI Executive Director (Marketing and Sales) R S Kalsi said: "All our models have shown growth during the year. In comparison to other companies we have been able to achieve growth by introducing new models."
While rural markets continued to grow, urban markets have also returned to growth path after witnessing stagnation in the last couple of years, he added.
When asked about the impact of enhanced excise duty on the automobile sector, Bhargava said: "It could derail the auto industry. If it lapses (on December 31) then prices go up by 4 percent and we will have to pass on the burden to the customer. If it remains the same then we will continue to pass on the cost benefit."
The previous UPA government had cut excise duty on cars, SUVs and two-wheelers in the Interim Budget in February to help the industry tide over a demand slump.
In June, the new government extended the excise duty concession for automobiles by six months to December 31.
Excise duty on small cars, scooters, motorcycles and commercial vehicles currently stands at 8 per cent reduced from 12 percent previously.
The same for SUVs stands at the reduced rate of 24 percent as against 30 percent, while that of large cars stands at 24 percent compared with 27 percent earlier. The duty on mid-sized cars stands at 20 percent down from 24 percent.----PTI