Mechinagar area hit by Bird flu in Nepal declared emergency zone
Submitted by Piyush Diwan on Tue, 01/20/2009 - 05:38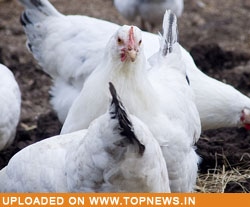 Nepal government is taking all the possible steps to save other regions of Nepal from falling prey to deadly bird flu. Mechinagar has been declared emergency region where birds were found affected with deadly H5N1 virus.
Districts close to the affected areas, including Morang and Chitawan have been issued notices regarding risk of spread of bird flu.
Prabhakar Pathak, chief of the department of livestock services in Kathmandu informed that about 13,000 poultry would be culled in five days to control the virus within a 3 km radius of the town, and the government would pay up to $5 for each chicken or duck that is culled.
Minister for Agriculture Jayprakash Gupta has asked international community and donor agencies to provide help to Nepal to fight the disease. He issued strict instruction to officials working at the Indo-Nepal border check points and quarantines in border areas to pay special attention to their task.