Modi calls himself future prime minister, dubs Congress as burden
Submitted by Hardeep Sidhu on Sun, 03/30/2014 - 15:44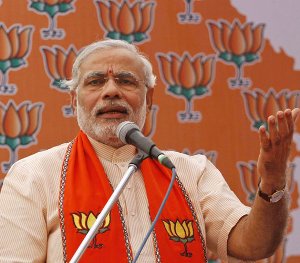 Chandigarh, Mar 30 - Launching a blistering attack on Congress party, Bharatiya Janata Party's prime ministerial candidate Narendra Modi has called himself the future prime minister of the country.
Addressing a rally here yesterday, the Gujarat chief minister said, "It feels I have returned home after a long time. It looks the future prime minister knows you better than the local representatives here."
Taking a pledge to defeat Congress in the Lok Sabha polls, Modi said: "These are the first elections in which India is realising that the ruling government has become a burden to the nation."
Modi also condemned the decision of Congress for fielding tainted candidates like Pawan Kumar Bansal and Ashok Chavan in the upcoming general elections, calling it a part of a mindset that refused to fight corruption.
"Why did you remove Pawan Bansal from his ministerial post? And, why did you bring him back. Why did you make him a candidate from---? This is how you fool the people of the country," he said.
They have brought the ideal candidates. The one who was involved in Adarsh scam and removed from the post of Chief Minister has been brought back again. Those who were involved in railway scam were removed from their posts, people protested against him, there was so much hue and cry about it in the parliament, Supreme Court gave its decision... so, they removed them from the front door and brought them back from the back door," he added. (ANI)
Technology Sector