Moldova election demonstrations muted, Voronin calls for recount
Submitted by Mohit Joshi on Fri, 04/10/2009 - 21:03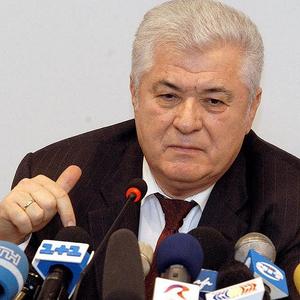 Chisinau/Kiev - Moldovan demonstrations against a Communist election win were muted in size and intensity on Friday, as President Vladimir Voronin called for a recount of the results. Between seven and nine hundred marchers carrying flowers had gathered in the centre of the Moldovan capital Chisinau by midday. Almost all the protestors were student age.
The demonstration was, in contrast to protests of earlier days, largely silent. The flowers symbolized "peace" and "nonviolence," marchers said.
Police presence was minimal but workmen were active cleaning up debris at and near the parliament and presidential residence buildings.
Moldova's opposition had called for intensified anti-government demonstrations on Friday, but few seemed willing to risk detention or even arrest at police checkpoints on major roads leading to the centre of Chisinau.
Members of the Friday march told reporters that plain-clothes police stationed at the entrances of middle schools and universities were warning students to stay away from Chisinau's main square.
Voronin on Friday met a key opposition demand by calling for a recount of the Sunday vote, in a formal letter to Moldova's Supreme Court.
A recount was necessary so that "all involved could be confident in the legitimacy of the result," Voronin said at a Friday meeting of Communist party leadership, according to an Infotag news agency report.
Voronin's ruling Communist Party of Moldova captured 50 per cent of the vote in the Sunday poll, giving the Communists 60 seats in the former Soviet republic's 101-seat legislature.
Three opposition parties also obtained sufficient support to place members of parliament (MPs) in parliament, but subsequent to the polling they alleged vote fraud by the Communists.
Protestors gathering in the Moldovan capital on Tuesday overran the presidential residence and the parliament building, looting both locations and setting the parliament building on fire.
Police retreated before the crowd. One person died and more than 200 were injured in the chaos.
Moldovan police and security troops thus far have held more than 200 persons they believe to be responsible for inciting the Tuesday riots.
Voronin on Wednesday accused Romanian media and state agents of colluding with Moldovan anti-government groups to attempt a coup against his administration.
International monitoring groups from the Organization for Security and Cooperation in Europe (OSCE), the European Parliament, and the Council of Europe all pronounced Moldova's Sunday election fair and without major voting violations.
Technology Sector